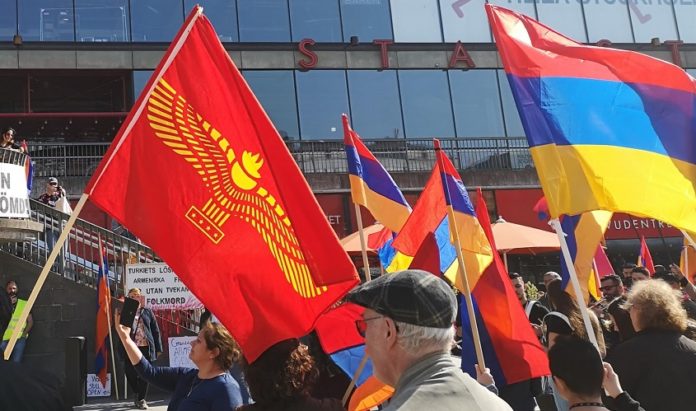 The Syriac-Aramaic Youth Federation of Sweden (SAUF) participated in the Armenian Federation of Sweden's demonstration for Seyfo where SAUF:s Secretary General spoke.
Wednesday marked the anniversary of the 1915 genocide in the Ottoman Empire, which in Aramaic (Syriac) is called Shato d 'Seyfo: the Year of the Sword. The Armenian Federation of Sweden annually organizes a demonstration at Sergels Torg in Stockholm and this year SAUF was invited to participate. The Secretary General of the federation Jacob Harman was one of the speakers of the day and he emphasized the betrayal of politicians as well as the denial that permeates the Turkish state.
SAUF has also shared a social media campaign in the days
related to the anniversary in order to highlight the brutality of the genocide. The hashtag #5procent was used to educate the fact that only 5% of Turkey's Christian population remained in the country after the genocide, where the rest was murdered or driven away from their homes.
Jacob Harman's entire speech can be found below on the SAUF's Facebook page (the speech was in Swedish):