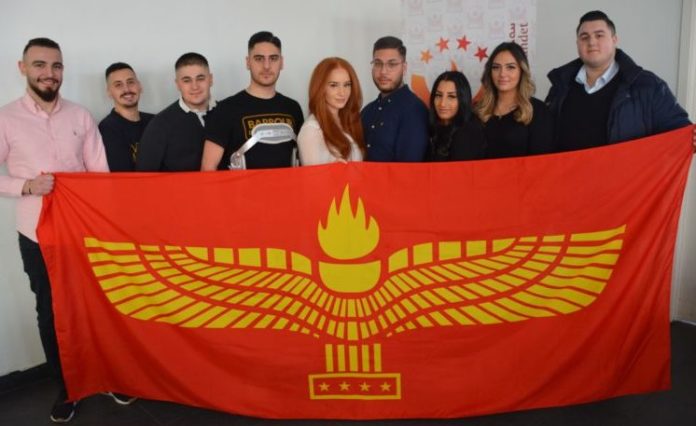 The Syriac-Aramaic Youth Federation of Sweden (SAUF) was formed as an independent organization in 1992. Since then, many boards have managed to lead the federation and, last weekend the newly-appointed board had its annual planning-session.
Jacob Lahdo (20) was born and raised in Norrköping and sat on the Board last year as Vice Chairman. At the annual meeting on March 14th, he was trusted to become the chariman of SAUF for the next two years. New Vice Chairwoman is Gabriella Josufsson (21) from Örebro and new treasurer is Afram Akpinar (20) from Västerås.
-I feel honored to receive this trust from our local organizations and above all, I feel excited to work alongside my board to lead SAUF forward and continue to develop an organization that has been so important to tens of thousands of Arameans over the years, Jacob said about his views on his new role.
SAUF is a federation with a broad range of activities at national and local level, and at the annual meeting a solid activity plan was adopted for 2020. However, like most other things in society today, there is a great risk of things not turning out as planned
-It is true that the coronavirus makes it tough for us and our local organizations. After all, most of what we do is based on physical presence and fellowship, and we quickly had to postpone our football tournament indefinitely when we realized the seriousness of the infection risk.
Abgar u 'Komo's football tournament is SAUF's largest activity that gathers hundreds of young people each year and it is far from the only activity threatened by covid-19. When Jacob is asked what the board has come up with during the recent weekend, the answer is clear.
According to him, they did not want to give up entirely on being able to carry out certain activities towards the end of the year and have drawn up a long-term plan with these in mind to see if they can be actualized as the date approaches. More importantly the Board focused most of their energy on short-term planning that is dominated by digital projects.
-We are now trying to adapt existing projects in order to implement them digitally, but above all we are trying to think outside the box and to be creative with the digital tools we have today. So you will see much from us in spite of the virus and the board is working hard with all of theese projects right now, Jacob explained.
Another initiative that has received attention is SAUFS decision to mix and distribute over 300 liters of hand sanitizer to its associations, which in turn are distributing it free of charge as an act of solidarity.
-In a situation like this, we must realize that we all have a social responsibility and if we as an organization can use our channels and networks to reduce the spread of covid-19, it should be obvious for us to take action. I want to commend our local organizations who are willing to do this work on site, concludes Jacob.